3/19/08
PRYOR CHOOSES BUCKEYES!!!!
Evaluation
Pryor is a rare athlete at multiple positions, and we have not evaluated a player over the last three classes with his size that can do all of the unique things he can do. He will be recruited at several positions depending on the program. Quarterback, wide receiver, tight end, outside linebacker, even safety are all possibilities, and at almost six-foot-six, it is tough not to marvel at his physical tools. Keep in mind though that he is raw and is so much more athletically gifted than everyone around him that he plays a pick-up game of sorts and makes plays while creating and improvising as opposed to consistently showing discipline, especially when at quarterback. He is physically imposing much in the same way Vince Young is. Displays outstanding mobility and is an elite running threat at quarterback. Shows very good initial quickness and the ability to consistently avoid the rush. He has elusiveness and an impressive second gear in the open field. Extremely dangerous when he breaks contain and can force opponents to defend the run-pass option. Makes a lot of things happen after the initial play breaks down. Arm strength is outstanding and effortless-- a flick of the wrist. Shows excellent RPMs when his feet are set. Tends to throw off his back foot or when flat footed, and this affects his accuracy, especially on the deep ball. As a passer, he is just slinging it. Gets rid of the ball quickly but will wind-up at times. Possesses game-changing skills with the ball in his hands. Defensively, Pryor covers so much ground from his safety position that he makes plays on the ball you wouldn't think he could make. He has a long wingspan, long legs and is a very fluid athlete. Ball skills are excellent, and he is also a tremendous leaper, as evidenced by his skills on the hard court. As a pass rusher, he will remind you of last year's Martez Wilson. Overall, physically Pryor has very few equals at this stage. He will have to settle in at one position and become more of a sound technician and disciplined player as a passer if he remians at QB, but the bottom line is he may be one of the most heavily recruited prospects we have ever seen. While his physical tools will likely get him on the field right away, he would benefit from redshirting especially at QB so he could learn how to work through reads and become a true passer. [center]
OHIO TIMES
Well.... Who is it gonna be?
Everyone is waiting on one man's decision. That Man is Jim Tressel, the coach of THE Ohio State University's Football team. The Decision, Who to Start at QB.
The two canidates for the job are Todd Boeckman, the starter from last season, the composed, low up side low risk type of QB who is in his Senior year. Or Terrell Pryor, The Sensational Freshman who had everyone on their toes seeing if he was going to pick OSU, PSU, MICH, or ORE. Signing Day came and still no decision had been made, no decision that is until March 19th, and when he walked up to that stage with all the microphones, he simply put on a OSU hate and said im a Buckeye. He has been said to be the next Vince Young, an amazing two sport athlete that lead his high school to state championships in each basketball and football. He is a threat to run it and throw, not to mention at 6' 4" he is the ideal size for a QB. However, with so many starters returning for their senior season will OSU be willing to ride out Pryor's goods and bads or do they just want to take the Florida approach and give boeckman the starting job and have pryor come in to change the pace. This approach worked for Florida in 06 by them winning the national title. Who did they beat in the chamionship game? None other than THE Ohio State University. Will Tressel follow in their foot steps hoping for the same out come, or will he give the reins to the future that is Terrell Pryor?
6/22/08
We interrupt the Indians game for this live announcement being made by Coach Jim Tressel about the Starting QB spot.
Jim Tressel: "Hello folks, many of you are asking who is going to be our starting QB. [pause] Our answer of now is that we still dont know who is going to get it. As of now it is an open competetion."
Reporter: "Coach, Coach, Why havent you guys made a decision yet?"
Jim Tressel: "Well, like i said, there is still an open competetion and with the first game still quiet a while away we arent ready to make that decision."
Reporter: "Coach, When will you make the decision."
Jim Tressel: "Well, right now we are aiming for 7/8/08, but it could come before then and it could come after then. Ok, guys, thats it, have a good night, and we will let you know who our QB is when we figure it out ourselves"
With Ohio State fully loaded with almost everyone returning last year and signing the nations top two ILB's and #1,3,8 OT's and not to mention the next vince young and Michigan pretty much losing everyone including their coach. Then You have Michigan pretty much building their whole offseason around recruit Terrell Pryor only to have him choose Ohio State. With Ohio State winning the last 5 meetings has the best rivalry in college football turned into a David v.s. Goliath meeting? As of now you kind of get the hunch that is the way this rivalry is heading, I mean, youhave Ohio State on one hand who is top 5 it seems like every year with the biggest college football fan base of any school and then you have michigan who hasnt done anything in what seems like forever.
Right now we will just say the world will be shocked if THE Ohio State doesnt make it six stright vs the BLUE. But perhaps there is still some hope for this rivalry as michigan may have a top recruiting class in 09 now that they are under new run by eaglesfan586390 now taking over controls. So maybe not so much David v.s. Goliath, but as of now, definently Big Brother v.s. Little Brother.
Welcome to Mike and Mike, we have a special guest today, I dont know if you have heard of him, does Jim Tressel the Head Football Coach at THE University of Ohio State ring any bells?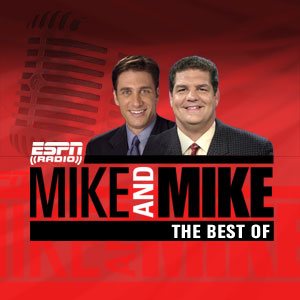 M&M: Hello Coach!
Jim: Well hello, thanks for having me on the show.
M&M: Well its our pleasure Jim, Why did you request to come on the show?
Jim: Well, this is my favorite show so i wanted to give you guys some plublicity for free, and becuz i want to make offical my depth chart and redshirts for all positions.
M&M: Even the QB position?
Jim: Yes, even the QB position.
M&M: Okay coach, im excited, lets get this going!
Jim: Okay!
QB:
Redshirts: none
Depth Chart: Prior, Boeckman, Henton, Bauserman
RB:
Redshirts: Saine-Will be the starter when beanie leaves
Depth Chart: Beanie Wells, Mo. Wells, Williams
WR:
Redshirts: #83, #12, #8, #10, #11
Depth Chart: #80, #9, #4, maclom jenkins, Beanie Wells, #19
TE:
Redshirts: #86
Depth Chart: #88, #87
LT:
Redshirts: #74
Depth Chart: #75
LG:
Redshirts: none
Depth Chart: #71, #67
C:
Redshirts: none
Depth Chart: #64
RG:
Reshirts: none
Depth Chart: #63, #77
RT:
Redshirts: #50, #76
Depth Chart: #70, #79
LE:
Redshirts: #99
Depthchart: #87, #90
DT:
Redshirts: #91
Depth Chart: #72, #92, #93, #84
RE:
Redshirts: #97, #50
Depth Chart: #9
LOLB:
Redshirts: none
Depth Chart: #51, #26, #7
MLB:
Redshirts: #6, #39
Depth Chart: James lauernitis, #38
ROLB:
Redshirts: #36
Depth Chart: #1, #55
CB:
Redshirts: none
Depth Chart: malcom Jenkins, #20, #5, #13, #29, #11
SS:
Redshirts: #4
Depth Chart: #3, #14
FS:
Redshirts: #8
Depth Chart: #21, #23, #32
Kicker: #20
Punter: #15
KR: WR #4, SS #3
PR: WR #4
Jim: this is our depth chart and this will be it when the season starts.
M&M: Thanks so much for coming Jim!
Jim: Anytime, keep up the good work you guys!
7/19/08
Week 1 goes from "OH NO" to "OH MY GOD!"
Wow, this is the way its gonna start? Thats what people were thinking in the stands when Terrelle Pryor started his college football career with the buckeyes and threw 3 ints in the first quarter and one in the second quarter. Columbus had been buzzing for this season ever since almost all the buckeyes decided to comeback for this season. Then you get the "next Vince Young" over rival Michigan. Then being ranked #3 in the polls yet a favorite to reach the national championship again. All this and in the opener they find them self down 35-0 with a minute to go in the second quarter. Could this be? How? Everyone of the Buckeyes faithful were in complete and utter shock. Then with 37 seconds left in the 2nd quarter a 16 yard touchdown pass to beanie wells put the buckeyes on the board. going into halftime it was 35-7. Horseshoe in absolute shock, you could hear a pin drop. Stayed the same way when florida st got the ball at half, but the defense held strong and pryor made a nice drive down the field capped off with a 20 yard TD pass to beanie wells with 2:01 left in the 3rd. 35-14, but only 7:01 left in the game it looked to little to late. Then Ohio State gets another stop, forcing a 3 and out. with 41 seconds left in the third quarter pryor found nicol for a 22 yard td pass. 35-21, the what ifs are beginning but nothing is getting to serious. not it looks like all hopes are lost when florida state makes a long drive only to have an int end it. Who else but James Laurenitis with the big play. With only 3 minutes left however it still looks like they were would need a miricale to win, or atleast force overtime. but pryor puts a few nice passes together and get inside the florida state ten. next play is a 5 yard pass to Small for the TD. With 2:21 left, the score is 35-28. The Buckeyes defense has been playing great all day, (35 points off great field position left from the offense and a INT Return) so they kick it off. Looks like a bad call when Florida State gets a first down on the first play. But, then the buckeyes force the seminoles to go 3 and out. They are forced to punt the ball with 48 seconds left. Now all of spring practices we have been hearing coaches rave about Small. How he will be utilized in the offense and special teams they will have a big time threat. Well he had proved it to be right as he had returned every kickoff to the 40 yard line and had a TD catch already. So Flroida State punts it, instead of punting it out of bounds they kick it to Small, he makes the first guy miss, then the second, then the third, now he is just running by everyone else. Then at the 3 yard line is a huge OG, he somehow breaks the tackle and waltezs in for the TD. TIE GAME, TIE GAME!!!!!!!!!!! The crowd is going crazy. With there only being 3 second left Florida state chooses to play for OT after incompleting the first pass. Then they Run it and Ohio State uses there last time out. now with 15 seconds left florida state could just kneel it or run it and go to over time but the choose to pass. Weatherford rolls out getting pressured from Wilson. He makes a dumb pass (CAS said he wanted to press the throw away button) and it gets picked off by Rios, OSU's 5th CB. with 8 seconds left and no time outs ohio state doesnt risk anything and they take the field goal rigth away. Pettery knocks in the 46 yarder for the 38-35 lead. With 2 seconds left Ohio State chooses to kickoff to the Returner rather then kickoff short and have florida state fair catch it and be able to hailmary it. They kickoff, the returner runs a little bit, and all of a sudden all of OSU's tacklers get pancaked it seemed, you think it is gonna be a punt return but out of no where Oneal comes up and makes the tackle, Ohio State wins after trailing 35-0 with only 11 minutes left to go, possibly the greatest comeback of all time.
7/20/08
OHIO PRESS
Tigers Growl Turns to Whimpers as Buckeyes Roll On
After what could have been the best comeback in college football history the Buckeyes got ready for a huge battle against the #6 LSU TIGERS and a rematch of the National Championship game. Through the first quarter it looked like a good game with Pryor hitting Robisjie for a 2 yard TD and Williams getting a goalline TD run for LSU. At the end of the first it was 7-7. Thats when the hurricane hit, in the seconds quarter Pryor hit Robiskie again for a 33 yard TD catch. Then off a turnover, Pryor made a 3 yard run for a TD. 21-7 Buckeyes at Halftime. Then in the third Beanie Wells caught a 21 yard TD from Pryor for a 28-7 lead. That is how it stayed to the end of the third. Then, 5 seconds into the 4th Pryor hit Small for a goaline TD catch, 35-7 Buckeyes. If you thought the Buckeyes would relax after that you were way wrong. Then next drive OSU got a Saftey to make it 37-7. Then with 1:10 left in the game the Buckeyes decided to let the kicker get some playing time as Pettrey knocked through at 54 yarder to make it a 40-7 Buckeye lead. That is how the game finished.
One big thing that happend was ROLB Freeman had back spasms and is questionable for next weeks game vs USC. He is a critical part of Ohio State's 5-2 defense.


Similar topics
---
Permissions in this forum:
You
cannot
reply to topics in this forum